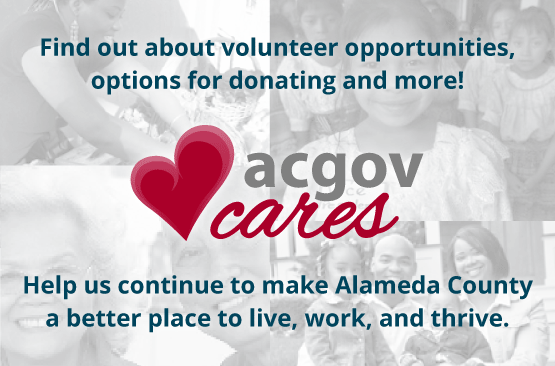 Video
It's Been a Banner Year
We produced this video "Innovative Service, Dedicated to Excellence" to celebrate our recent accomplishments.
Finance
2017-18 Proposed Budget
The County Administrator presented the FY 2017-18 Proposed Budget to the Board of Supervisors on June 13, 2017. View...
Social Services
Social Services Agency to Host Free Lunch Program
The Alameda County Social Services Agency is participating in the California Department of Education's Summer Food Service Program (SFSP), offering free lunches this summer to youth as part of its menu of services. SFSP aims to alleviate the nutrition gap during the summer months for children living in areas where at least 50 percent of students are eligible for free or reduced-price school meals. Free lunches will be offered June 22 through August 10 at locations in Oakland and Hayward. Learn more...
Health
Alameda County Awarded $6 million Grant to Enhance Services for Adults Transitioning from Criminal Justice System
Alameda County's Health Care Services Agency will receive a $6 million State grant to fund mental health, housing and substance abuse services for a select group of adults returning to the community from jail and prison. In a statewide competition for funds made available through State Proposition 47, Alameda County finished second out of 58 counties. Passed in 2014, Prop. 47 reclassified some low-level crimes from felonies to misdemeanors, mandating that resulting State savings be directed to help individuals transition out of the criminal justice system. Learn more...
Road Closure
Palomares Road Closed
Alameda County Public Works Agency is continuing its debris clean-up and slope stabilization efforts in the vicinity of mile marker 8.70. Palomares Road remains closed to thru traffic between Palo Verde Road, Castro Valley, and Niles Canyon Road, Fremont. Residents will need to access their homes from either Palo Verde Road or Niles Canyon Road. Learn more...
Newsletter
Community Connection
Download our bi-monthly newsletter to learn more about the County. Check it out...
Official Announcements
Press Releases
View of list of official press releases issued by the County. View...