Rates & Amenities
Auditorium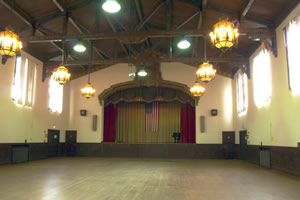 Dining
Fees

** Standard Returnable Deposit

$250.00

Janitorial

$34.50/hr

* Security Officer(s)

$19.61/hr

Liability Insurance

Wedding receptions up to 100 guests

$83.32

Wedding receptions above 100 guests

$116.15

All Other events up to 100 guests

$122.46

All Other events more than 100 People

$213.15

***Liquor Liability Insurance

Weddings

$60.00

All Other events more than 150 People

$150.00

All Other events up to 150 People

$125.00
**Deposit

$250.00 or 20% of total contract (whichever is greater) is refundable, granted the facility has been properly cleaned and all trash removed and stored in provided trash bins.

***Liquor / Beer

No glass bottles or kegs of any kind allowed.


Alcoholic beverages must be consumed in auditorium and can NOT be taken into lobby or outside the building.


If no liquor is present, neither liquor liability insurance nor guards are required.


*Note: Alcoholic beverage license can be obtained from the Department of Alcoholic Beverage Control web site.

Champagne

To avoid damage to lighting, all champagne must be corked inside the Kitchen.

*Security Guards

If guards are required the ration is one (1) guard for every 50 guests.

Kitchen

You must leave the Kitchen spotless & wet mop the entire area that is rented.

Set-Up / Take Down

You must set-up and take down all tables and chairs.

Trash

All trash shall be placed in the dumpster (Provided on the side of the building).

Walls

Nails are NOT allowed in walls; blue, painter's tape may be used instead.

City Ordinance

City Ordinance requires all music to stop by 10:00 P.M. - Building must be vacated by 11:00 P.M.