New Business Guide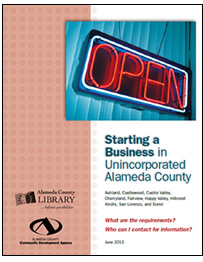 Starting a Business in Unincorporated Alameda County
Starting a business can be an exciting time, and one that shouldn't be fraught with unnecessary delays, frustration, and hidden or unexpected costs. To make things a little easier, the County and its partners have put together the following new business guide to help those embarking on starting a new business in the unincorporated areas of the County.
In addition, it's critical not to forget that starting a business is more than just getting a business license and opening up shop. Depending on where you are located, the zoning may determine what you are allowed to do and special permits are sometimes required. This is also true when opening up a home-based business or cottage food business. Make sure you have checked in with the Planning and Zoning office before entering into any financial obligation, lease or begin pulling permits to do work on your space.
The link below will take you to the New Business Guide containing nearly all you will need to know to start a business in unincorporated Alameda County. We are ready to help, just let us know!