Get Involved!!
Volunteer on a Board / Commission
There is an ongoing need for all interested Alameda County residents to apply for positions on Boards / Commissions which are of interest to them. Each Board / Commission has an issue, policy and / or program focus and appointees generally represent defined communities of interest. Most Boards / Commissions have a staff liaison that is able address any questions you may have about the application process for their specific Board / Commission.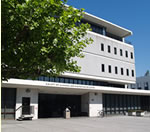 Welcome to the Clerk of the Board of Supervisors website. We hope that you find our site easy to use and the information that we have beneficial. We invite you to browse the site, if the information you require is not available on our site, please feel free to contact us at (510) 208-4949.
News & Information
None at this time.
UPCOMING BOARD OF SUPERVISORS MEETINGS
Regular Calendar
---
Committee Calendar
* Portable Document Format (PDF) file requires the free Adobe Reader.
** To view Microsoft Office Word, Excel, or PowerPoint documents, you can download a free trial version of Office 365. Per Microsoft, you will be able to continue viewing files even after the trial has expired.