Paper Towels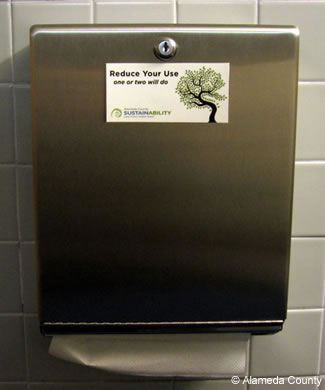 We display these friendly waste reduction reminders on towel dispensers throughout the county.
When we conducted a waste-sort at County facilities, we were surprised to learn that approximately one-third of the County's waste (by volume) is made up of paper towels. Since then, we've made strides to reduce our use by switching to reusable microfiber clothes for janitorial cleaning and by installing hand dryers at select locations. We have also rolled out composting collection to make sure those paper towels are composted instead of sent to landfill. And we implemented a behavior change campaign that focuses on reminding employees to take less at the point of use - right at the paper towel dispensers.
These reminders help employees overcome habits that can be difficult to change. We designed the campaign to have a simple and direct ask that is friendly, lyrical and fun. The message, "Reduce your use, one or two will do," is accompanied by an appealing image of a tree to subtly remind employees that their actions will have a positive impact on the environment. We have found that these direct messages help employees feel empowered to take sustainable actions elsewhere in their workplace, like turning off lights and computer equipment at the end of the day.
We're sharing our project steps and templates here so that other organizations can start a paper towel waste reduction effort with minimal effort. Key elements of this campaign include:
Baseline use: We reviewed paper towel purchasing records so that we could measure the impact of our campaign.
Gain buy-in: We worked closely with our key stakeholders including building managers and janitorial staff to gain permission and assistance for posting stickers.
Post stickers: Because of the number of facilities we own, we partnered with our janitorial staff to post stickers on all of our paper towel dispensers in the restrooms. We provided janitors with an instruction sheet to ensure consistent application of the stickers countywide.
Illustrate benefits: We informed employees of the positive impact their actions can have through a newsletter article.
Measure success: We tracked paper towel use through the pilot project timeline and measured a 5-10% reduction in paper towels and shared this success with employees.
Documents
Paper towel waste reduction sticker template - *PDF

268kb


** Where indicated, documents are also available in Microsoft Publisher (PUB). If you do not have Publisher installed, you can download a free trial version, which will still be good for viewing Publisher files after the trial expires. It is recommended that you first download the file: Right-click the desired link. Select "Save target as..." or "Save link as..." from the menu.

*** Where indicated, documents are also available in Microsoft Word (WORD). If you do not have WORD installed, you can download the free Word Mobile app to facilitate document viewing.