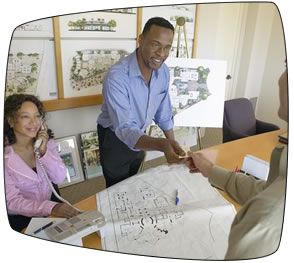 About Us > Program > Benefits
Small and Emerging Businesses, local businesses, the community at large, and the County all benefit from the program.
For Certified Small, Local and Emerging Businesses (SLEB)
Providing a method of inclusion for the small and emerging businesses presents opportunity for growth, capacity building, and participation in County contracting and procurement activities. Certified small and emerging businesses are eligible to receive a 5% bid evaluation.
The maximum preference per contract is 10%: 5% for local business plus 5% for either certified small or emerging business status.
Certified businesses receive maximum exposure to the public procurement process and are ensured to be included in all training, networking and development opportunities.
For the Community at Large
By including all businesses in the contracting processes and activities it leads to a healthy business environment, which promotes a healthy economy, lower regional unemployment and a higher standard of living.
For the County
The County benefits when all sizes of businesses are included in the bidding process. Certified SLEBs increase the supplier base from which the County departments may select from and improves the County's ability to secure goods and services from viable small and emerging businesses while increasing the procurement base. SLEB participation leads to increased competition in the bidding process and better contracts with lower costs. The SLEB Certification Unit will attempt to certify any supplier that departments identify in order to create a larger base for the departments bidding advantage.