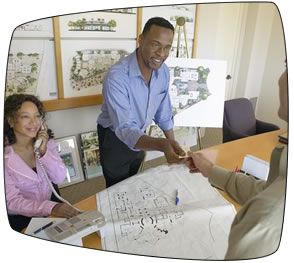 About Us > Program > Components
Small and Emerging Bid Preferences and Subcontractor Utilization
Certified businesses are eligible for a 5% bid preference to promote equitable utilization of SLEBs in all aspects of the County's procurement and contracting activities for goods and services.
Local Bid Preference
Businesses that meet the County Local definition are eligible for a 5% bid preference.

The maximum bid evaluation preference points for being certified is 10% (5% local & 5% certified). Compliance with the SLEB program is required for architectural, landscape architectural, engineering, environmental, land surveying, and construction project management services projects.
Certification Process
County certifies SLEBs to participate in County contracts using Federal Small Business Administration (SBA) size standards based on North American Industry Classification System (NAICS) codes.
Departmental/Agency Goals for Contracts up to $25,000
Departmental discretionary spending for items $25,000 and under is directed towards SLEBS.
Departmental/Agency Goals for Contracts over $25,000
Businesses not meeting the definition of a local small or emerging business are required to subcontract a minimum of 20% of the estimated contract amount with a SLEB in order to be eligible for contract award.
Outreach and Training (Calendar of Events)
Training, education and technical assistance opportunities are provided to enhance SLEBs successful participation in County procurement and contracting programs. Learn more...
Local Supplier Database
The Auditor-Controller Agency maintains a database of local, certified small and certified emerging businesses interested in participating in County contracts to solicit bids and proposals from.
Compliance
Compliance with SLEB program requirements is monitored by County departments and administered by the Auditor-Controller Agency, Office of Contract Compliance & Reporting (OCCR).

Contractors and subcontractors participating in County contracts utilize the County's online web-based compliance application, Elation Systems.
First Source Program
The First Source Program was developed to link Alameda County residents with employment opportunities provided through the County's relationships with businesses, including contracts that have been awarded to suppliers through the competitive process, and economic development activity in the County. The First Source Program allows the County to create and sustain these connections. Learn more...
Reporting
The Auditor-Controller Agency, Office of Contract Compliance & Reporting (OCCR) reports contracting activities, business utilization and contract compliance data to the Board of Supervisors.