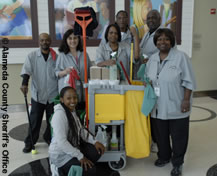 Janitors at the Juvenile Justice Center help create the healthiest work environment possible through green cleaning.
Green Cleaning
Choosing green products and methods to clean County buildings is an important step in creating the healthiest environment possible for our janitorial staff and building occupants, while minimizing our impact on the environment and providing a high-level of service. We use Green-Seal-certified cleaning products throughout the County.
Green Cleaning at a LEED® Gold Facility
A few years ago, the County's janitorial department took the lead on developing a full green cleaning program at the Juvenile Justice Center, which has received a gold rating from the U.S. Green Building Council's LEED® program.
Janitorial staff uses green cleaners. Entryway matting reduces the amount of dirt tracked on floors. Janitorial staff also uses microfiber cloths, which have extremely fine fibers that help minimize dust.