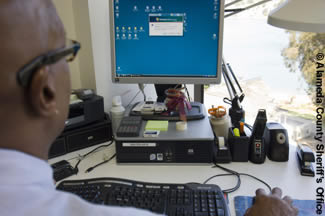 Reducing computer energy consumption is one of the goals of the County's Green IT initiative.
Green IT
Information Technology (IT) is an integral part of how we do business at the County. Minimizing energy use and packaging associated with computers can help save taxpayers dollars and reduce our impact on the environment. In 2008, we launched a Green IT initiative with County IT and purchasing managers. The initiative has 4 main goals:
Choose less-toxic and recyclable IT products using the EPEAT database. EPEAT is a system to help purchasers evaluate, compare, and select electronic products based on their environmental attributes
Work to ensure that IT products are delivered in reusable or bulk packaging
Reduce computer and data center energy consumption with energy management software and user education
Reuse IT products within the County or by donating to non-profit organizations, or dispose of them safely
Cross-Agency Working Group
In October 2008, the Shared Information Group (SIG), Alameda County's cross-agency working group for Information Systems computer network managers, identified what would be needed to green computer purchasing, management and end-of-life practices in their agencies:
Education on "green IT" best practices
Green guidelines and policies for County IT management
Climate Action Plan Participation
SIG members participated in the development of the Alameda County Climate Action Plan to reduce emissions from County operations by providing suggested policy measures to the Climate Coordinator for their County agency. In order to develop a baseline of green IT management performance to-date, SIG members also completed a survey so that this information can be used to develop IT action measures for the Climate Action Plan.
Green IT Symposium
On December 12, 2008, 100 Alameda County employees and private and non-profit representatives convened in the Alameda County Conference Center to explore their collective interest in transitioning to using greener IT products and practices.