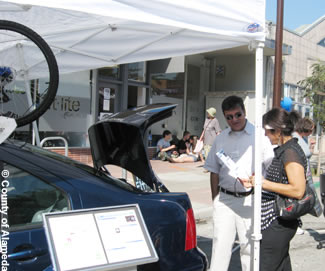 A Green Team member explains the County's waste vegetable oil powered car at the 2008 Solano Stroll.
Our Green Teams
Three County agencies—the Community Development Agency, the Environmental Health Department (within the Health Care Services Agency), and the General Services Agency—have formed internal Green Teams. These Green Teams provide new ideas, take action to make their agencies more sustainable, and conduct outreach to the public.
The General Services Agency (GSA) Green Team focuses on sustainability outreach and education to both employees and the public on topics such as saving energy and reducing waste. GSA Green Team projects include writing articles for employee newsletters, coordinating lunchtime presentations for GSA staff, and conducting public outreach at events such as the Solano Stroll. The GSA Green Team has also worked on a pilot effort with Dig Deep Farms.
The Community Development Agency (CDA) Green Team focuses on:
Supporting greenhouse gas reduction initiatives
Improving the environment and livability of unincorporated neighborhoods
Promoting a healthy and thriving population
Supporting green business and green-collar jobs
The Environmental Health Services Green Team focuses on:
Maintaining their administration building's Bay Area Green Business certification
Identifying and implementing priority green initiatives, such as water conservation and food waste composting
Identifying new green initiatives for the department
Related Link: